LAT Stats (Apr to Jun 2019) – What's the story?

The LAT released Year 4 Q1 stats April to June 2019. Here's a roundup of key information:
January to June 2019: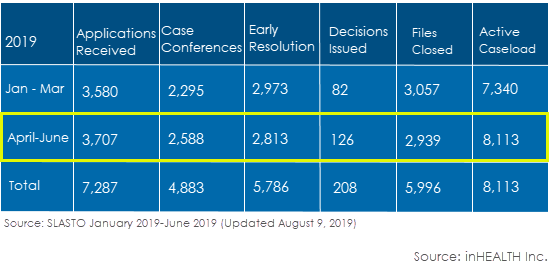 Caseload up 10.5%, a total increase of 17.9% year-to-date for 2019
Upwards trends continue – increased productivity yet caseload growing
Prioritization/diversion of resources (case conference, hearings, recons)
Case complexity – Increase in in-person vs. written hearings
Written ↓ to 43% from 67% year 2
In-person ↑ to 47% from 26% year 2
Unknown factors
# of pending CATs
# of pending case conferences
Productivity:


On a positive note, the disposition rate of application received to files closed in the most recent quarter increased 2.7% compared to year 3.
The story continues with the LAT actively responding to an ever increasing demand and complexity of applications. Yet, to understand the full story, more details are required on pending recons, CATs and case conferences.
Is it time now to consider the two proposed elements in the LAT that were not implemented, rather than continuingly reinventing themselves within the same structure? With no gatekeeping function nor pre-step as envisioned, there seems no likelihood that the system will "right" itself.
Attempting to fit all cases into the system rather than diverting them would seem to be the new problem statement.