MIG Update – June 6, 2022
---

No Scientific Evidence That Specialized Imaging Is More Reliable
In this week's issue, a MIG hold where the Applicant failed to show why her chiropractor's imaging technology was superior to readily accepted technology such as a CT scan and MRI. The Tribunal also rejected the Applicant's attempt to carve out a further category of injury that would fall outside of the Minor Injury definition.
---

Reason Codes Are Here – Added Layer of Understanding!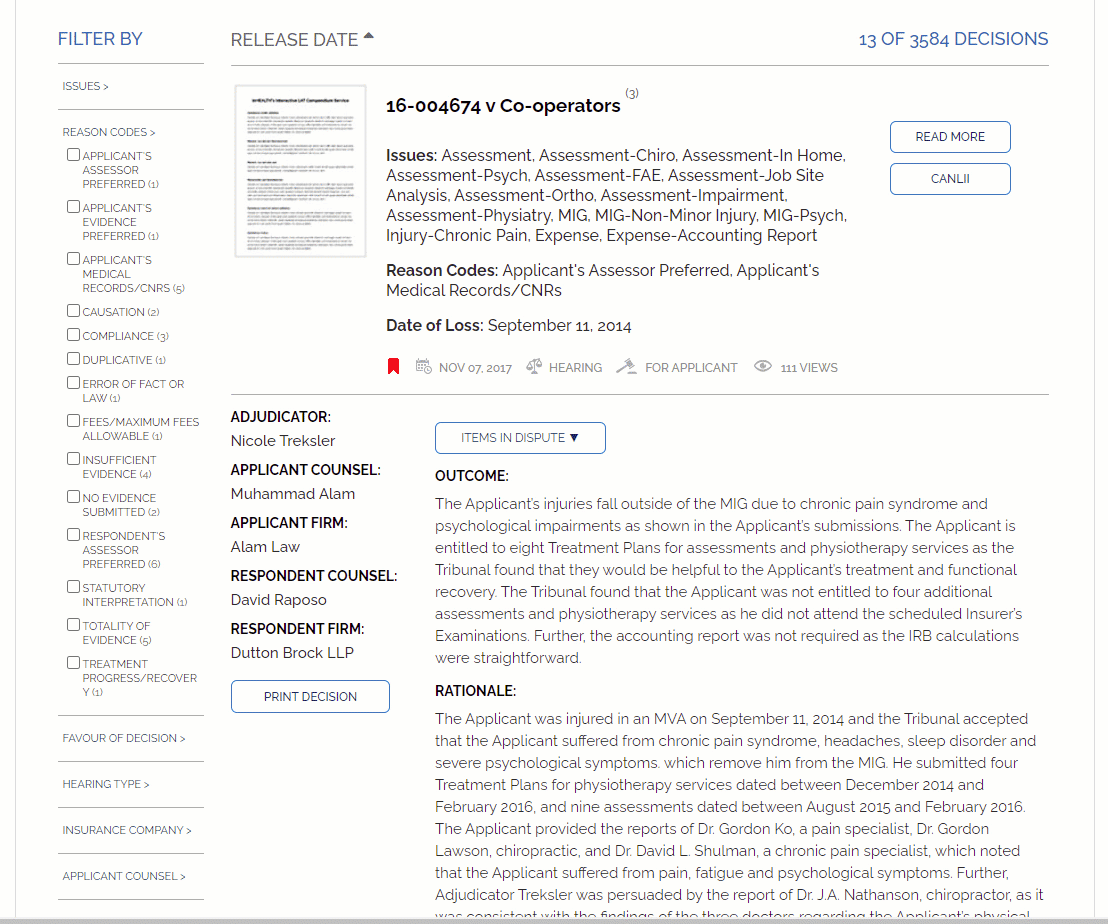 Exciting News! Search and Filter by Reasons On inHEATH's LAT Compendium
Reason codes add a deeper layer of understanding on the reason for the decision and associated issues in dispute. This added value is included in all subscription levels at no extra cost.

Try It Now!
Sign up for a 14 day free trial and book your walk-through with an inHEALTH team member by emailing service@inhealth.ca or send us a message through Live Chat!
---

Factor: Specialized Imaging
In Gkiksana v. Wawanesa Mutual Insurance Company (20-008312), Gkiksana sustained sprain and strain of cervical spine and concussion with headache, dizziness, neck pain and sleep disturbance from a November 13, 2016 accident. Gkiksana was denied medical and rehabilitation benefits and an assessment that included a DMX Digital/Dynamic Motion X-ray, submitted by Dr. Baird.

Gkiksana claimed that she sustained a disc injury that did not come under the definition of minor injury. Relying upon the assessment and report of Dr. Baird, chiropractor, dated November 27, 2018. Dr. Baird, after conducting 'Digital Radiographic Analysis' concluded that Gkiksana sustained loss of motion segment integrity amounting to a disc injury. Dr. Baird noted that the injury to the spinal stabilizers and the loss of motion segment integrity should be considered permanent and there is the potential for neurological degeneration.
Further Dr. Baird concluded "Loss of motion segment integrity is AMA Guides DRE Category IV (Page 104) which is a 25% impairment of the whole person. The craniocervical injury involving the cerebellum and spinal cord requires further investigation. It is premature to rate this injury as it may worsen over time. An HMPAO Brain SPECT scan should be obtained to provide a baseline and a clinical strategy should be developed hastily in the event of further deterioration."
Wawanesa submitted that the "PostureRay" software used by Dr. Baird was unreliable, because it was contradicted by extensive diagnostic imaging of Gkiksana cervical spine, including a CT scan, X-Rays and MRIs. Further that Dr. Baird's reports did not include an "Acknowledgement of Expert's Duty" form required by Rule 10.2(b) of the LAT Rules of Practice and Procedure amongst the reasons for denying the the cost of the specialized imaging.
Wawanesa also relied on the June 26, 2018 Insurer's Examination (IE) Multidisciplinary Assessment Report by Dr. Castiglione and Dr. Margaliot, who diagnosed Gkiksana with soft tissue injuries to the cervical spine with WAD I-II classification and soft tissue strain of the thoracolumbar spine. That there is no evidence that the degenerative changes at C5-C6 were exacerbated by the accident. Dr. Margaliot noted that Gkiksana's medical records confirmed she did not sustain a concussion or other neurologic injury as a result of the accident. Dr. Margaliot concluded Gkiksana's injuries belonged in the MIG from a neurological perspective.
---

---
---

In preferring Wawanesa's evidence the Tribunal rejected:
The investigation undertaken by Dr. Baird as it did not include any scientific or objective evidence that would give more weight or to prefer the results emerging from DMX Digital/Dynamic Motion X-ray to the more reliable and well-established technology used by Dr. Castiglione, specifically, CT Scan and MRI.

Dr. Baird's opinion regarding the craniocervical injury involving the cerebellum and spinal cord requiring further investigation, that it is premature to rate this injury as it may worsen over time as somewhat speculative.

Gkiksana's attempt to carve out a further category falling outside the MIG, finding that simply having a disc injury was insufficient to remove her from the MIG.
---

If you Have Read This Far…
Our MIG Monday series discusses the multitude of factors to consider when evaluating a risk position on MIG cases. The Tribunal has ruled on the MIG in 24% of the decisions so far. Each case is nuanced, but with similar factors.
Inform your position & present persuasive arguments. Include an Outcome Analysis Report (OAR) in your case evaluation complete with For/Against cases. Need an OAR?
inHEALTH Keeps you LAT inFORMED With Access To:
1. LAT Compendium Database – a relational database of LAT and Divisional Court Decisions equipped with multiple search options, Smart Filters, and concise case summaries
2. Notifications: – weekly LAT inFORMER delivered to your inbox Wednesdays; Newly Added Decisions on Fridays and Breaking News as and when it happens
 3. Research Support: – inHEALTH's Live Chat Experts for guided searches and technical inquiries.
---
Sign up for a 14 day free trial below to experience the service and see how it can help guide your decision making.