MIG Update – June 27, 2022
---

Pre-Existing Confirmed by IE – "Extremely Rare & Exceptional"
Cited as an extremely 'rare and exceptional' circumstance', the Tribunal was satisfied that the Applicant did not need to produce additional medical records in support of his pre-existing condition in seeking removal from the MIG. .
---

Reason Codes Are Here – Added Layer of Understanding!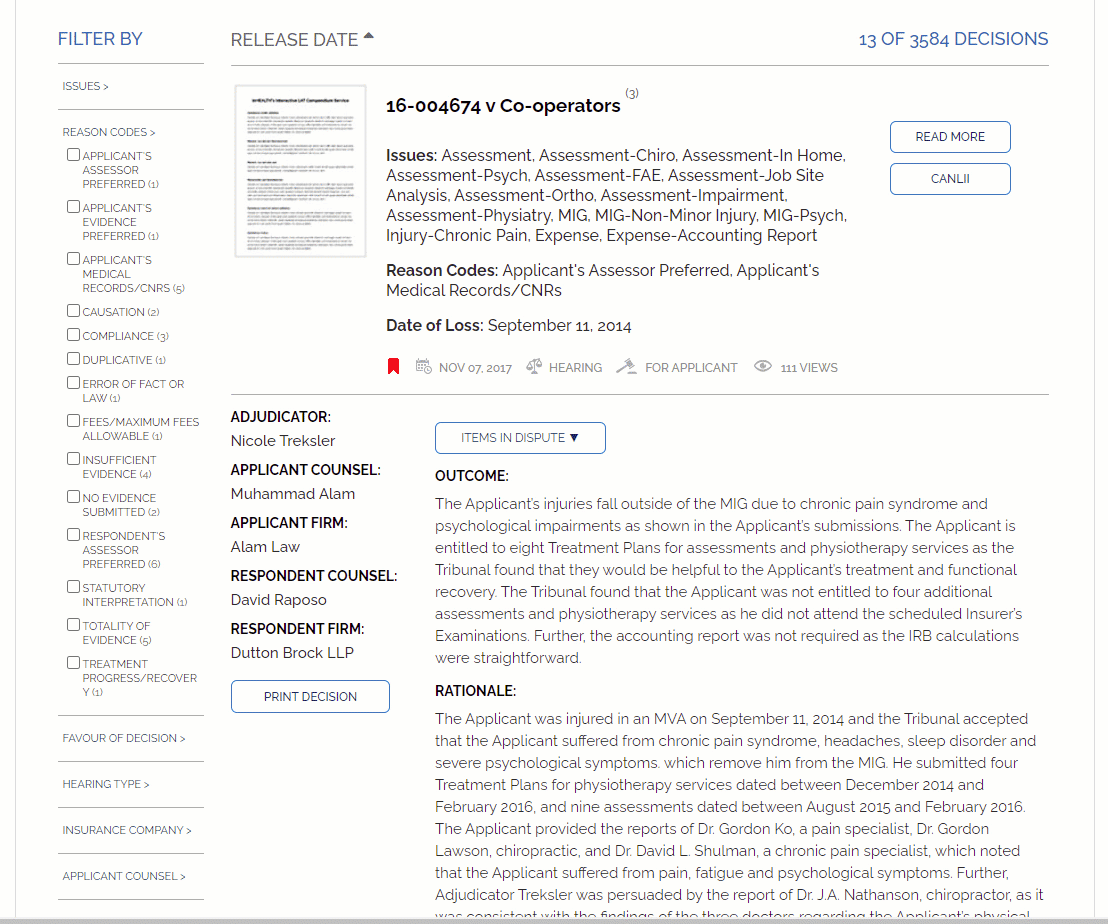 Exciting News! Search and Filter by Reasons On inHEATH's LAT Compendium
Reason codes add a deeper layer of understanding on the reason for the decision and associated issues in dispute. This added value is included in all subscription levels at no extra cost.

Try It Now!
Sign up for a 14 day free trial and book your walk-through with an inHEALTH team member by emailing service@inhealth.ca or send us a message through Live Chat!
---

Factor: Undocumented Pre-Existing Injury
In Noor v. Intact Insurance Company (20-009592/AABS), Noor was injured in an accident on June 13, 2018 and sought entitlement to two Treatment Plans for physical therapy and a psychological assessment. Noor submitted that his injuries fall outside of the MIG because of a pre-existing injury that negatively impacted his recovery and that his injuries are chronic.
Noor's pre-existing injuries occurred in Somalia where he suffered a gunshot wound to his shoulder and PTSD from the war in the 90's. Under the circumstances it would be impossible for him to get the medical records.
Intact contended that the injuries sustained were soft tissue injuries and Noor's pre-existing complaints were not documented prior to the accident. In refusing to fund treatment outside of the MIG, relied upon a second report by Dr. Milan confirming Noor suffered soft tissue injuries.
Yet, Intact did have an earlier opinion from Dr. Mian, physician, dated October 16, 2018 wherein it was noted Noor's left shoulder was significantly atrophied, likely from underuse given the fact that he had a significant gunshot wound to that region several years ago for which he received essentially no rehabilitation or physical therapy while in his native Somalia." This underlying condition would exacerbate Noor's recovery.
---

---
---

The Tribunal held:
"I will preface my findings with this statement. The circumstances of this hearing are extremely rare and exceptional. In almost all cases the findings below will not be applicable as precedence for a future case. My findings are unique to this hearing and are in line with the Schedule being a consumer protection legislation and interpretation of the sections should be liberally construed."

The initial IE report by Dr. Mian established the injury was pre-existing by physically examining Noor and rendering an opinion that it would affect Noor's recovery.

The adjuster testified that Intact would not require the medical records from Somalia requiring only the year prior to the accident.

The second report by Dr. Milan was incomplete because he was not asked about the pre-existing condition in light of his opinion in his first report that Noor's pre-existing condition would impact his recovery.

While the psychological assessment plan was found not to be reasonable and necessary, it was found to be payable due to Intact's failure to provide a notice within 10 business days in accordance with s 38(8).

This triggered s38(11)2 which obligates the insurer to pay for the assessment described in the treatment plan that relates to the period beginning on the 11th day until proper notice is received. Since the assessment would have taken place in that period, it was found that the Applicant could incur the treatment and it is payable.

Noor is not entitled to an award as he only pointed out the insurer's error one month before the hearing.

An insurer "is entitled to make some mistakes. In doing so, if a mistake is perceived by the insured or its representative, then it is incumbent on them to point it out. A mistake can only be remedied if it is known. If at that point an insurer refuses to remedy the mistake, then the actions may surmount to an entitlement for an award."
---

If you Have Read This Far…
Our MIG Monday series discusses the multitude of factors to consider when evaluating a risk position on MIG cases. The Tribunal has ruled on the MIG in 24% of the decisions so far. Each case is nuanced, but with similar factors.
Inform your position & present persuasive arguments. Include an Outcome Analysis Report (OAR) in your case evaluation complete with For/Against cases. Need an OAR?
inHEALTH Keeps you LAT inFORMED With Access To:
1. LAT Compendium Database – a relational database of LAT and Divisional Court Decisions equipped with multiple search options, Smart Filters, and concise case summaries
2. Notifications: – weekly LAT inFORMER delivered to your inbox Wednesdays; Newly Added Decisions on Fridays and Breaking News as and when it happens
 3. Research Support: – inHEALTH's Live Chat Experts for guided searches and technical inquiries.
---
Sign up for a 14 day free trial below to experience the service and see how it can help guide your decision making.