MIG Update – June 13
---

MIG Escape 8 Years Post Accident
This week a MIG escape where an Applicant's ongoing pain from a pre-existing knee injury sustained as a teen, was exacerbated and continued for 8 years following the accident. The surgical repair and ongoing intervention led to the Tribunal's decision that maximum medical recovery could not be achieved within the MIG limits.
---

Reason Codes Are Here – Added Layer of Understanding!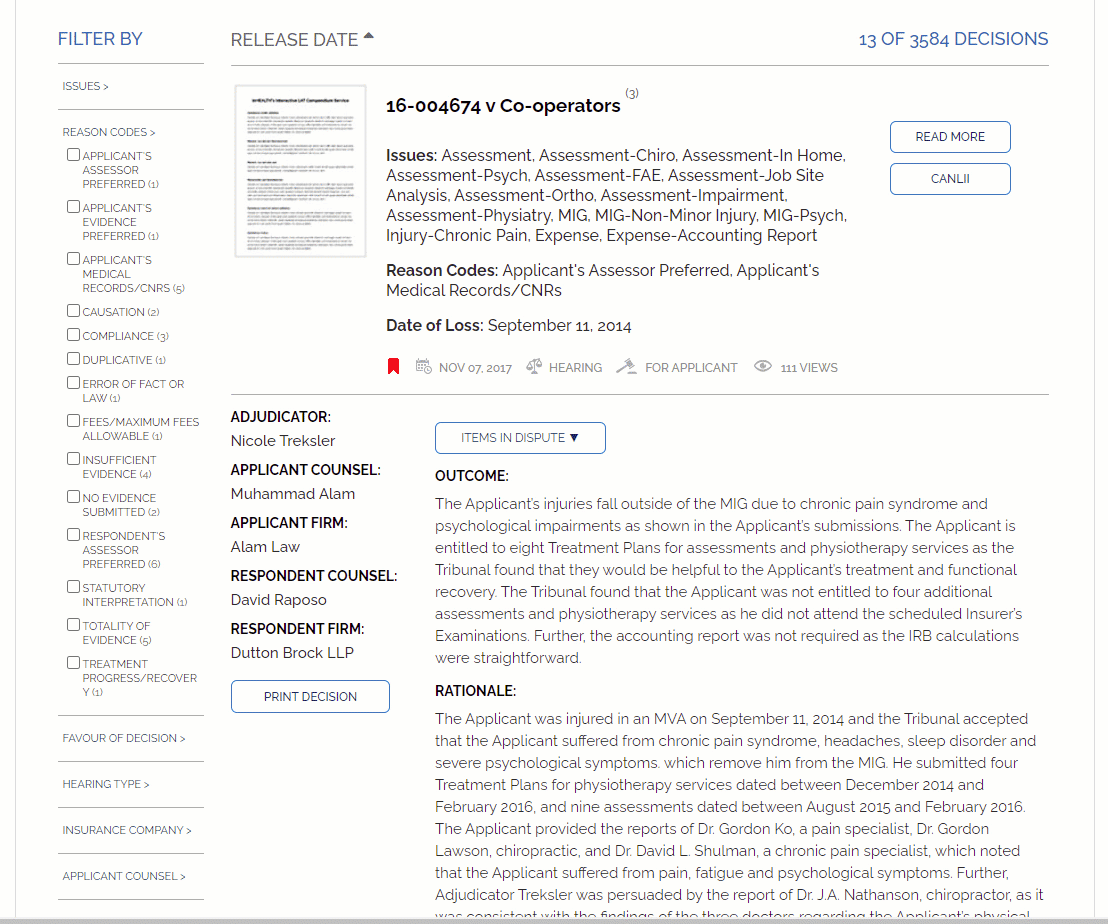 Exciting News! Search and Filter by Reasons On inHEATH's LAT Compendium
Reason codes add a deeper layer of understanding on the reason for the decision and associated issues in dispute. This added value is included in all subscription levels at no extra cost.

Try It Now!
Sign up for a 14 day free trial and book your walk-through with an inHEALTH team member by emailing service@inhealth.ca or send us a message through Live Chat!
---

Factor: Pre-Existing Injury
In Almonte v. Wawanesa Mutual Insurance Company (20-000204), Robert Almonte was injured in an accident on December 11, 2014 claiming that his pre-existing knee pain was exacerbated by the accident in which he had struck his knee amongst other injuries. Further diagnostic imaging by way of an MRI revealed complex lateral meniscal tears and a complete ACL tear, which was found to be chronic in nature that ultimately required surgical repair.

At issue were 7 treatment plans for both treatment and assessments in dispute between August 2017 and December 201, totalling $14,200.
Wawanesa submitted that Almonte did not meet his burden in proving the pre-existing injuries prevented maximal recovery under the MIG. They also submitted any treatment or assessments beyond the August 2017 surgery were caused by degenerative knee changes unrelated to the accident.
---

---
---

The Tribunal found:
On the medical evidence submitted, Almonte's right knee was already compromised at the time of the accident due to the pre-existing athletic injury suffered as a teen.

In the months following the accident Almonte reported on more than one occasion that he struck his right knee at the time of the collision.

Between March 9, 2015 and December 19, 2019 there are numerous records of knee pain complaints and pain medication prescriptions. All of which were documented as accident related.

In September 2017 Almonte underwent knee surgery due to the ACL tear and lateral meniscal tear.

The accident exacerbated Almonte's pre-existing right knee pain to such an extent it would prevent maximum medical recovery if remained in the MIG.

The treatment plans for physical therapy were reasonable and necessary. The knee pain complaints were consistent both prior to and after the surgery and the treatment plans helped with symptom control and goals met to a reasonable degree.

Prior to the accident Almonte was able to engage in full-time work and sports activities, and after the accident, he required knee surgery and is no longer able to engage in full-time work or his various pre-accident sports activities. As such, "there are reasonable grounds to support an investigation by way of an orthopaedic assessment".

Wawanesa's argument that Almonte failed to meet the criterion set out in the AMA Guides for a chronic diagnosis was not a valid position against the assessment request which was to determine if there was a chronic pain diagnosis.
---

If you Have Read This Far…
Our MIG Monday series discusses the multitude of factors to consider when evaluating a risk position on MIG cases. The Tribunal has ruled on the MIG in 24% of the decisions so far. Each case is nuanced, but with similar factors.
Inform your position & present persuasive arguments. Include an Outcome Analysis Report (OAR) in your case evaluation complete with For/Against cases. Need an OAR?
inHEALTH Keeps you LAT inFORMED With Access To:
1. LAT Compendium Database – a relational database of LAT and Divisional Court Decisions equipped with multiple search options, Smart Filters, and concise case summaries
2. Notifications: – weekly LAT inFORMER delivered to your inbox Wednesdays; Newly Added Decisions on Fridays and Breaking News as and when it happens
 3. Research Support: – inHEALTH's Live Chat Experts for guided searches and technical inquiries.
---
Sign up for a 14 day free trial below to experience the service and see how it can help guide your decision making.