MIG Update – July 4, 2022
---

Chronic Pain Diagnosis Alone is Insufficient
A MIG hold this week, where the Applicant's chronic pain diagnosis was not sufficient for removal from the MIG. The Tribunal cited N.J. v. TD General Insurance Company (19-002444) and the analysis between chronic pain and the MIG and what is considered for removal from same.
---

Reason Codes Are Here – Added Layer of Understanding!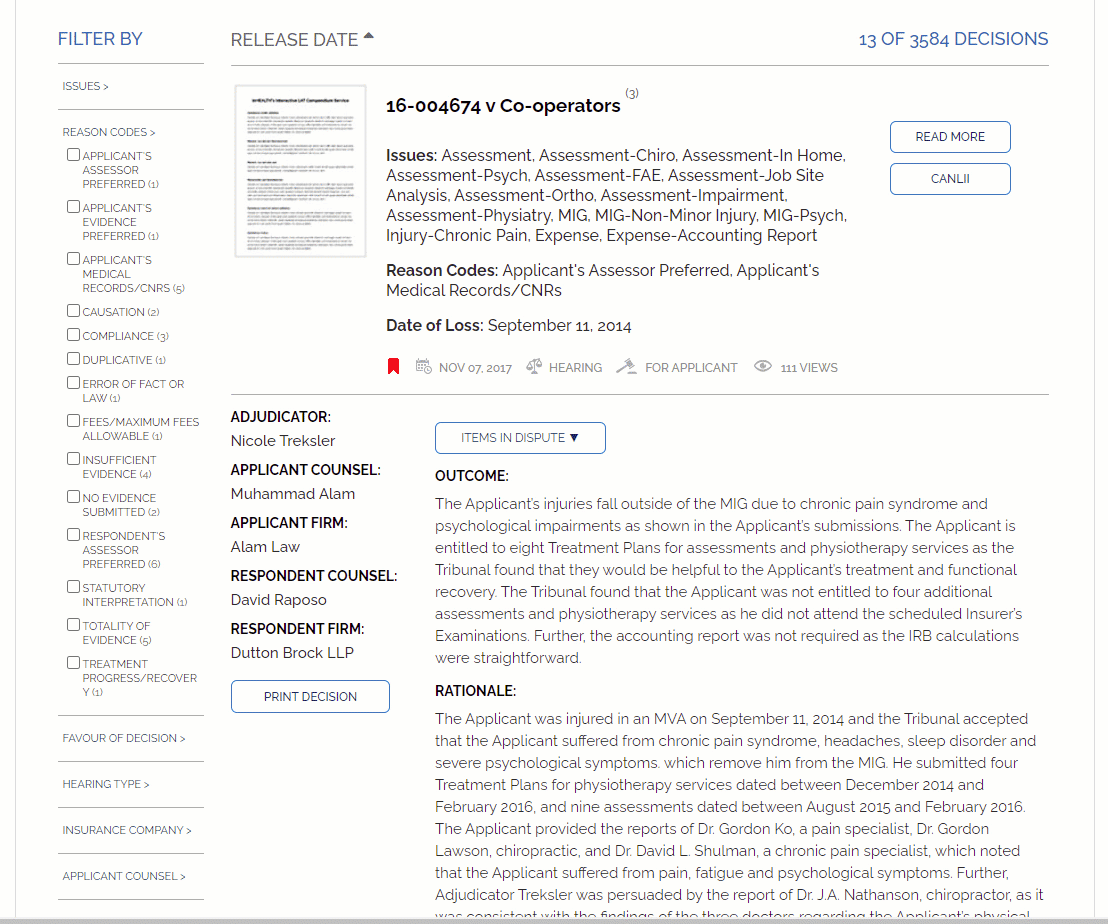 Exciting News! Search and Filter by Reasons On inHEATH's LAT Compendium
Reason codes add a deeper layer of understanding on the reason for the decision and associated issues in dispute. This added value is included in all subscription levels at no extra cost.

Try It Now!
Sign up for a 14 day free trial and book your walk-through with an inHEALTH team member by emailing service@inhealth.ca or send us a message through Live Chat!
---

Factor: Chronic Pain Diagnosis with No Functional Loss
In Khan v. Sonnet Insurance Company, (20-007065), Nadia Khan was involved in an automobile accident on August 26, 2018 and sought removal from the MIG on the basis of her chronic pain and psychological impairments. Khan sought benefits, including treatment for: chiropractic services, orthotics, a biopsychosocial assessment, and a psychological assessment.
Khan had ongoing pain in her lower back, neck and shoulder which did not resolve within the normal healing time. She relied on the CNRs of Dr. Doobay and the Toronto Medical Centre.
Khan submitted she has objective evidence of chronic pain and thus, should be removed from the MIG citing 17-002907 v. Aviva Insurance Company where there was objective evidence of disc bulges and degenerative changes in the spine.
Sonnet conversely argued that ongoing pain alone will not remove Khan from the MIG as it must be accompanied by some functional loss.
Sonnet relied on N.J. v. TD General Insurance Company (19-002444) where the Tribunal held "that a chronic pain diagnosis alone will not remove the applicant from the MIG, and removal from the MIG requires the applicant to prove that their chronic pain is not merely a sequalae of their soft tissue injuries, and it is their predominant injury….for chronic pain to be more than a sequelae it must be continuous or be a chronic pain syndrome and it must be accompanied by functional impairment or disability. It was further determined that a chronic pain diagnosis without any discussion about the level of pain, its effect on the person's function or whether the pain is bearable without treatment will not meet the applicant's burden of proof to remove them from the MIG".
---

---
---

In Khan's case, the Tribunal found:
The reasoning in the Tribunal decision N.J. v. TD General Insurance Company (19-002444) persuasive in that a diagnosis of chronic pain alone was insufficient to remove the Applicant from the MIG and that there must be some evidence of a detrimental impact on functionality.

While Khan was diagnosed with chronic pain as a result of the accident by physician Dr. Doobay, there was no evidence of a detrimental effect on her functionality.

Little weight was placed on the CNRs of Toronto Medical Centre as the records contained largely only Khan's self-reports, Khan returned to work on regular duties following the accident, and her last attendance for treatment was December 11, 2018.

The CNRs of Dr. Doobay did not support their being any functional limitation as result of her chronic back pain.

The August 15, 2019 report of IE assessor, Dr. T. Levy, who concluded that Khan suffered uncomplicated soft tissue injuries to her posterior neck, left shoulder, left chest, and lower back. Khan advised Dr. Levy that she was independent with her personal care activities and had returned to work on regular hours and duties, two days after the accident.

Khan did not complain to Dr. Doobay of any psychological symptoms as a result of the accident. While Khan complained of sleeping problems and a driving phobia, she failed to present any evidence to support these submissions.

Toronto Medical Centre CNRs where someone circled "post-traumatic stress and cognitive injury," and "sleep disturbances" based on Khan's self-report were not persuasive.
---

If you Have Read This Far…
Our MIG Monday series discusses the multitude of factors to consider when evaluating a risk position on MIG cases. The Tribunal has ruled on the MIG in 24% of the decisions so far. Each case is nuanced, but with similar factors.
Inform your position & present persuasive arguments. Include an Outcome Analysis Report (OAR) in your case evaluation complete with For/Against cases. Need an OAR?
inHEALTH Keeps you LAT inFORMED With Access To:
1. LAT Compendium Database – a relational database of LAT and Divisional Court Decisions equipped with multiple search options, Smart Filters, and concise case summaries
2. Notifications: – weekly LAT inFORMER delivered to your inbox Wednesdays; Newly Added Decisions on Fridays and Breaking News as and when it happens
 3. Research Support: – inHEALTH's Live Chat Experts for guided searches and technical inquiries.
---
Sign up for a 14 day free trial below to experience the service and see how it can help guide your decision making.