MIG Update – July 18, 2022
---

No Nexus Between Car Accident and Pre-Existing Psych
This week, a MIG hold case where the Applicant was found to have a significant pre-existing psychological condition which he argued materially contributed to his psychological impairment from the accident. However, ultimately failing to establish that the accident was a 'necessary cause' of his psychological injuries.
---

Reason Codes Are Here – Added Layer of Understanding!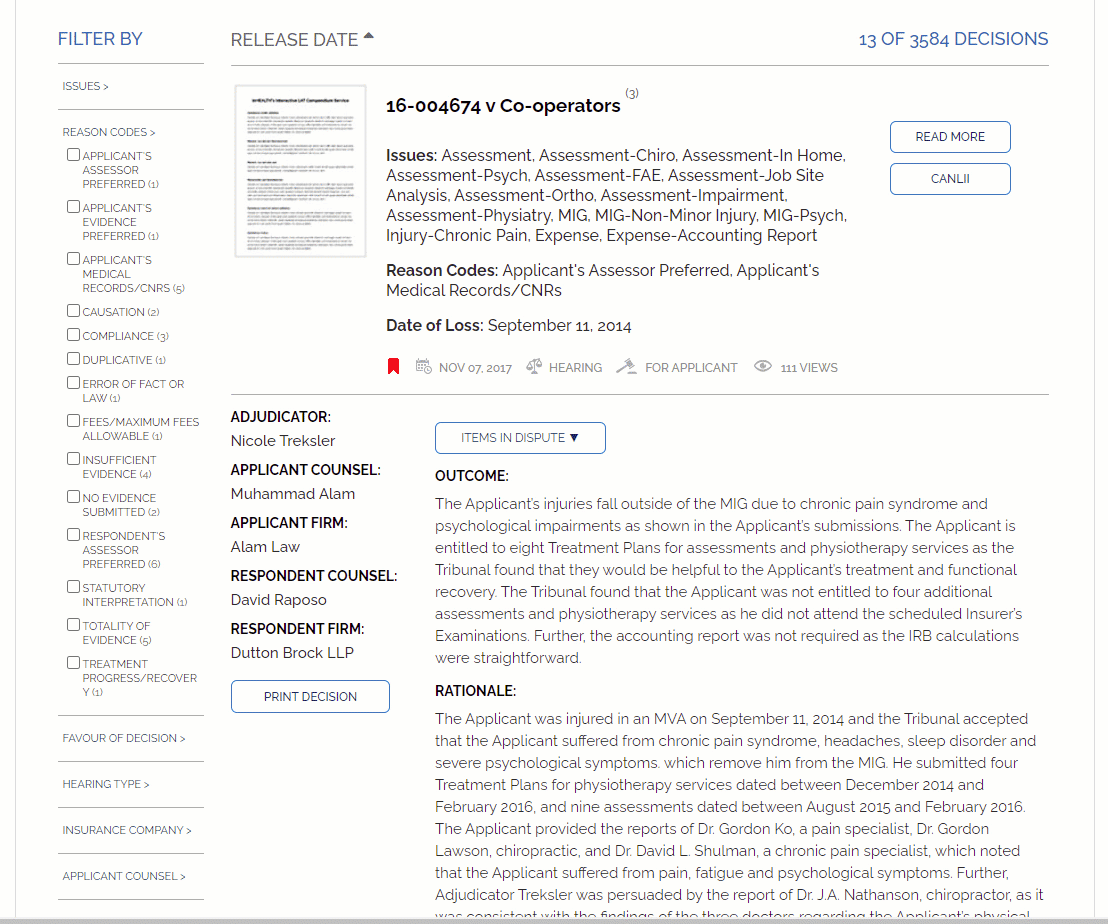 Exciting News! Search and Filter by Reasons On inHEATH's LAT Compendium
Reason codes add a deeper layer of understanding on the reason for the decision and associated issues in dispute. This added value is included in all subscription levels at no extra cost.

Try It Now!
Sign up for a 14 day free trial and book your walk-through with an inHEALTH team member by emailing service@inhealth.ca or send us a message through Live Chat!
---

Factor: Nexus between Pre-existing Condition and Car Accident
In Analucas v. Aviva (20-008142), Rodney Analucas was in a motor vehicle accident on January 20, 2018. He sought removal from the MIG bases upon both physical injuries as well as psychological injuries of anxiety and insomnia. Further arguing that he had a pre-existing psychological impairment that materially contributed to his injuries from the car accident.
Analucas relied on the records and reports of chiropractor, Dr. Mirian; family physicians, Dr. Doss, Dr. Lapena between October 2016 and June 2020 which included referrals and correspondence regarding mental health and sleep disorder issues. He also relied upon psychologist, Dr. Belyakova, in support of his claim.
In February 2017 Analucas was diagnosed with a DSM-V diagnosis of schizophrenia by Dr. Barnaby Tamakloe, psychiatrist stemming from witnessing a violent death of a co-worker following which he suffered from intrusive thoughts, auditory hallucinations, and paranoid delusions. Dr. Tamakloe prescribed Loxapine. In October 2018, Dr. Ugwunze, psychiatrist noted that Analuca's psychosis resolved when he took Loxapine and his sleep was only disturbed when he stopped taking it. By February 2019 Analucas' sleep disorders had improved.
Analucas further relied upon the submission of an OCF 18 by Dr. N. Belyakova, Psychologist dated May 1, 2018, that provided a "provisional diagnosis" of adjustment disorder with mixed anxiety and depressed mood, and specific phobia, situational.
Aviva on the other hand relied on the Insurer's Examination ("IE") report provided by Dr. A. Kruger, Physician dated September 13, 2018, that diagnosed Analucas from a musculoskeletal perspective with a trapezius cervical sprain/strain (WAD I).
---

---
---

The Tribunal found:
There was no mention of the accident in the family doctors' CNRs until more than 14 months after the accident when Analucas requested the accident related medical records at the request of his lawyer.

In the absence of any expert reports or other evidence submitted by Analucas, greater weight was given to Dr. Kruger's diagnosis of WAD I uncomplicated soft tissue injuries.

No weight was placed on Dr. Belyakova's "provisional diagnosis" of adjustment disorder with mixed anxiety and depressed mood, and specific phobia, situational, as there was no evidence that it was based on any objective evidence or psychometric testing.

"It is well-settled that the leading case on causation was set out by the Divisional Court in Sabadash v. State Farm, which is binding on this Tribunal. Only in rare situations will the material contribution test be applied. Other than stating that the January 20, 2018 accident materially contributed to his physical and psychological injuries, the applicant did not elaborate on why his situation is a unique one where the but for test for causation would not apply."


Analucas "failed to establish on a balance of probabilities that the accident was a necessary cause of his pre-existing psychological issues."

Analucas does have significant pre-existing mental health and insomnia issues. However, there was no nexus between the accident and his pre-existing impairments as no expert reports indicated that these issues would prevent maximal recovery within the treatment limits of the MIG.
---

If you Have Read This Far…
Our MIG Monday series discusses the multitude of factors to consider when evaluating a risk position on MIG cases. The Tribunal has ruled on the MIG in 24% of the decisions so far. Each case is nuanced, but with similar factors.
Inform your position & present persuasive arguments. Include an Outcome Analysis Report (OAR) in your case evaluation complete with For/Against cases. Need an OAR?
inHEALTH Keeps you LAT inFORMED With Access To:
1. LAT Compendium Database – a relational database of LAT and Divisional Court Decisions equipped with multiple search options, Smart Filters, and concise case summaries
2. Notifications: – weekly LAT inFORMER delivered to your inbox Wednesdays; Newly Added Decisions on Fridays and Breaking News as and when it happens
 3. Research Support: – inHEALTH's Live Chat Experts for guided searches and technical inquiries.
---
Sign up for a 14 day free trial below to experience the service and see how it can help guide your decision making.