74% LAT Recons Only Recourse Now Divisional Court
The upcoming Rule 18 changes of the LAT Rules of Practice and Procedure eliminate access to reconsiderations on Preliminary Issues and Motions unless the appeal is finally disposed of. For example, a reconsideration will still likely be heard when there is a final determination made on the Definition of Accident and Limitation Period.
Other changes include reconsiderations potentially being heard by a member on their own decisions. Philippa Samworth, partner at Dutton Brock LLP, said last week at the Ontario Insurance Adjusters Association 2019 Claims Conference in Toronto. "It means that it's no longer the executive chair that hears reconsideration. The rule now specifically provides that any member of the tribunal can hear a reconsideration." Read more on Canadian Underwriter's article "Should a LAT member be allowed to reconsider their own decision?".
One aspect of inHEALTH's LAT Compendium Services gathers competitive information with respect to the outcomes of LAT decisions, making it available to subscribers. As of today, 79 reconsiderations and 19 Divisional Court decisions have been published, representing approximately 10% of the total published decisions. How will the proposed changes affect the frequency of reconsideration or accessing the Court?
What are the implications?
Overall, of the 79 published reconsideration decisions, 39 were requested by the injured party, 38 were by insurer and 2 were initiated by Executive Chair.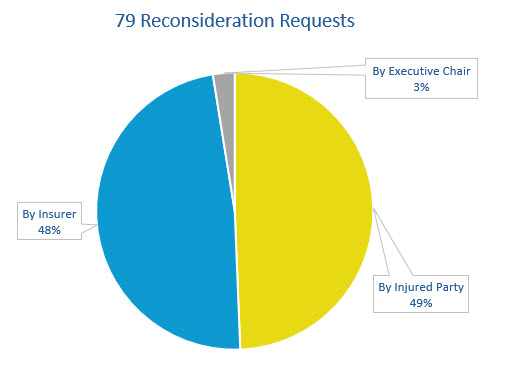 Source: inHEALTH's LAT Compendium (Updated February 4, 2019)
Category of Reconsiderations
Reconsiderations are broken down into two categories: (i) whether the appeal was on a finding on preliminary issues/motions; or (ii) whether it was on substantive matters.
Examples of reconsideration on preliminary issues/motions would be when parties appeal findings on a request for adjournment. On the contrary, reconsiderations on substantive matters would relate to determinations on entitlement to a benefit.
A total of 50 out of 77 reconsiderations, excluding the 2 initiated by Executive Chair, have dealt with substantive matters while 27 have dealt with preliminary issues/motions. Of the 27 preliminary issues/motions, there were 7 decisions where the appeal finally disposed of the matter, 26% of the total. This could effectively shift 74% of the preliminary issues/motions not heard at the LAT to Divisional Court. Are the parties willing to risk the potential cost consequences of proceeding to Divisional Court on a preliminary matter?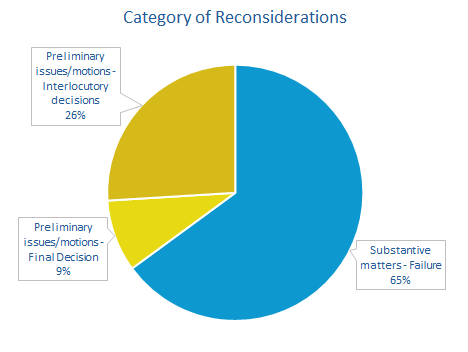 Source: inHEALTH's LAT Compendium (Updated February 4, 2019)
How will the changes to Rule 18 of the LAT Rules of Practice and Procedure impact your practices? – Contact us if you need a metric or comparison.